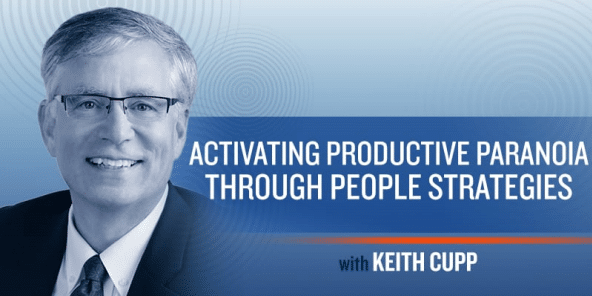 Recently in reviewing Jim Collins' book Great by Choice, the concept of "Productive Paranoia" sparked insights into the question, "how can a leadership team strengthen their company in a softening economy?" "Productive paranoia" is one of three attributes that Jim Collins identified in research on companies that were able to grow 10x through changing circumstances (e.g. Intel, Progressive Insurance, Southwest Airlines). An important trait of any leadership team is the ability to look over the horizon and ask, "how can we prepare for adverse scenarios?" In reflecting upon this "Productive Paranoia" question, there are three actions and corresponding resources leaders can consider as they build their companies in preparation for softening economic conditions.
Review existing talent and consider consolidating role activities, or functional accountabilities amongst A-Players
In a previous blog, Coach Tim Wiley explained the principles behind the Talent Review Exercise that top performing companies regularly utilize to ensure they have the best talent in the organization to execute their business plan. This proven process of reviewing talent can be executed on a more frequent basis as economic conditions soften. The leadership team can be more assertive in removing under-performing team members, in combination with reviewing their scorecards to eliminate any role activities that are non-essential for the business to grow and thrive. The remaining essential role activities can be redistributed to other A-Player team members who can successfully execute them. An underlying assumption of this People tactic is that it will be for a season of time until either the economy picks up again or the business has sufficient momentum to build for the future by adding new talent in critical role areas. In order to execute this approach in a more strategic manner, the leadership team can first review the Functional Accountabilities in the organization and strategically consolidate a few of the Functional Accountabilities from multiple roles into fewer mission-critical roles. In a previous blog, Coach Ken Thiessen explained the principles behind using the Functional Accountability Exercise to ensure your organization has clear functional accountabilities, with Key Performance Indicators (KPIs) to ensure they are being measured.
Learn and implement Multiplier's principles to increase execution yield from your talent.
In her New York Times Best-Selling Book Multipliers: How the Best Leaders make everyone smarter, Liz Wiseman articulates the business case on how great leaders inspire their talent to think more deeply and deliver more value in an organization. Leaders naturally have both diminishing and multiplying attributes in their behaviors and leadership approach. As leaders become aware of both their native Diminisher/Multiplier profile and begin to utilize principles and tools to replace Diminisher behaviors with Multiplier behaviors, they inspire their talent to think and deliver greater productivity, innovation, and value to the organization. The net result of improvement in Leadership Multiplier traits across the organization can be summarized in one of two outcomes. Increased profitability with existing talent, or maintenance of current profitability with fewer team members. Take the free Assessment offered by The Wiseman Group here to uncover your Leadership Multiplier profile.
Increase front line employee engagement through financial education and empowerment.
In his book The Great Game of Business, Jack Stack shares how an organization can come alive and thrive through the process of financial literacy of front-line employees while teaching them tools to continuously improve the processes they touch daily that create flow, value, and profit. Jack's colleague and President of The Great Game of Business, Rich Armstrong, has co-authored (with Steve Baker) a new book titled It's Money, It's People…It's Both! that articulates these principles, and also provides practical tools for their understanding and implementation. One of the most effective tools for front-line employees to increase execution yield is called "Mini-Games" – the gamification of action steps to improve processes and their profitable outcomes. Check out a visual example of Mini-Games in play here. The MiniGames tool is part of the larger philosophy and operating system of The Great Game of Business but elegantly illustrates how today, your existing front-line team members have greater intellect, problem-solving abilities and potential impact than they are using for the benefit of the business' success. It is the responsibility of leadership to unleash this untapped potential, resulting in greater profitability from existing human capital in your company.
As economic indicators point to the potential of a softening economy ahead, prudent business leaders will apply proven strategies, principles and tools to prepare their organization and take advantage of growth opportunities that may come with a softening economy.
Don't forget to register for the EntreLeadership event in San Diego! This event will provide our coaches with the potential for longer engagement, more opportunities, and referrals! The event is sold out, but Gravitas has reserved seats at a special reduced rate for our coaches. Click on this link for more information on registration and speakers. As a sneak peek of what you can expect, here's a video from one of the featured though leaders: CEO, entrepreneur, & author Jesse Itzler.