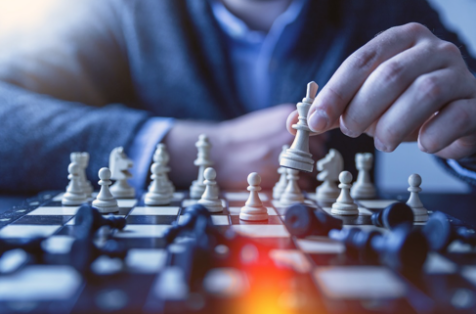 The key question for you: Can you and your team state your firm's strategy simply — and is it driving sustainable growth in revenue and gross margins?
So What is Strategy?  
Jack Welch is a celebrated, legendary CEO. In his two decades at the helm of General Electric, he grew revenues to $130 billion from $25 billion and profit to $15 billion from $1.5 billion. Market capitalization ballooned to $400 billion, growing by a multiple of 30. Jack's definition of strategy is:

"Strategy is not a lengthy action plan.  It is the evolution of a central idea through continually changing circumstances".

Hermann Simon is a German author and business leader. He is chairman of Simon-Kucher & Partners, Strategy & Marketing Consultants. Simon is an expert in strategy, marketing and pricing. An ongoing online survey voted him the most influential management thinker after Peter Drucker.

"Hidden champions teach that exceptional management means doing small things better than the competitors instead of managing only one great thing".

Michael Porter is the founder of the modern strategy field and one of the world's most influential thinkers on management and competitiveness. The author of 19 books and over 130 articles, he is the Bishop William Lawrence University Professor at Harvard Business School and the director of the school's Institute for Strategy and Competitiveness.  A six-time winner of the McKinsey Award for the best Harvard Business Review article of the year, Professor Porter is the most cited author in business and economics.

"Strategy is the creation of a unique and valuable position, involving a different set of activities (from competitors)".  "The essence of strategy is choosing what not to do."

I like Michael Porter's definition of strategy the best.
So where did I get the term "Kick for the Seagulls" when it relates to strategy?
Last year my local rugby club – held a fundraising lunch – the guest of honor was Ray Price, OAM.  For those that have never heard of Ray, he is a former dual-code international (rugby union and rugby league) footballer. He was nicknamed 'Mr Perpetual Motion' for his hard, intimidating style of play. Price played rugby league and won four premierships and several medals. During the lunch Ray was asked about the people most influential in his life. He answered that his coach, Jack Gibson OAM was the greatest influence in all areas of his life.  A number of anecdotes stood out to me from Ray's comments that we can all take into our business and personal lives.
Strategy – Kick it to the seagulls. Gibson told a young Peter Sterling to kick the ball into open spaces rather than into the opposition's hands; seagulls often congregate on empty spaces on sports fields! i.e. Play where your competitors are not – create a strategy that avoids competing with rivals on the same dimensions.
Leadership – cared for his team on and off the field. Gibson was a mentor of men off the field as much as on and generated extraordinary loyalty from his players. He was all about the player's overall character and insisted they all had jobs. If they didn't have a job they did not play!
People – To win in sport or in business you need "A" players on your team! To win a championship, you've got to have a nucleus of five or six real tough, hard competitors. To win anything, the team's got to think tough and that infiltrates into the individual. Translate this to business – a team needs to aim for a minimum of 80% 'A' players, 20% 'B' players and no 'B/C' or 'C' players. The big test in football & in business is how a captain leads under conditions of adversity.
Innovation in strategy – Gibson was unique. An innovator – in ideas and ideals. Gibson was regarded as the 'guru' coach in various sports circles, not only for producing successful sides wherever he coached but also for his thirst for innovation. He introduced lots of new coaching and training methods into the sport in the 60s, 70s and 80s. Gibson often studied coaching methods in other sports, he liked to pick up and experiment with coaching and training methods which could be incorporated into his coaching. In particular, he would often travel to the United States to watch NFL teams play and train, particularly in relation to attitudes of the players and the psychology of coaching.
His innovations in coaching include, but were not limited to:
First to use a computer to evaluate player performance including being the first club coach to track and use individual player tackle counts.
His teams were the first to train with sides from other codes – i.e. he used Australian Football specialists as kicking coaches.
Introduced mascara under the eyes to reduce glare for night games under lights.
First to use weights-machines
First to use video extensively as a coaching device.
First to insist upon his own integrated coaching team including a fitness conditioner and injury treatment/rehabilitation.
_____________________________________________________________________________________

Connect with me: robert@theradixgroupllc.com