By Corey Kupfer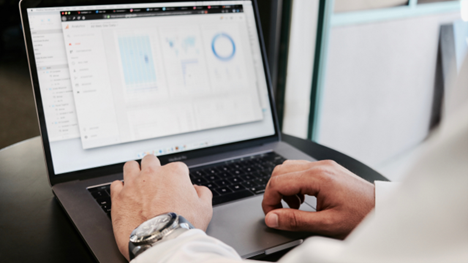 Jay Offerdahl and his father, Brad, founded Viking Mergers & Acquisitions in Charlotte, NC in 1996. Now, Jay is the president, and he specializes in mergers & acquisitions, customized exit strategies, succession planning and seller representation. He's a master of preparing businesses for a strong exit! In addition, Viking Mergers & Acquisitions also handles divestiture services for the mid-market company. They have dedicated and experienced advisors, and a passion for serving business owners.
Since 1996, Viking's team of professional advisors have successfully closed on sales of more than 600 businesses. Their team is uniquely positioned to help you navigate through a successful transaction. The majority of their advisors are former business owners themselves. They have been in your shoes and they know the unique challenges of buying and selling a business.
Listen to the DealQuest Podcast.
Following in His Dad's Footsteps
Growing up, Jay remembers his dad buying and selling large machinery. Like many kids, he gravitated towards wanting to do what his dad did. Later, when his dad bought his first company and got into entrepreneurship, that appealed to Jay as well. He seemed to always believe that his own career would somehow connect to what his father did.
And, ultimately, it has! Not many people have actually co-founded a thriving business with a parent, but Jay and his dad have had great success with Viking Mergers & Acquisitions
By the time he was preparing to graduate from Appalachian State University, Jay did some job hunting and interviewing. However, he didn't spend much time as an employee before becoming an entrepreneur. Like many, in hindsight he can see that he was spending way too much time working in his business.
Having learned so many lessons about building a business from the ground up, Jay is very aware that his own experiences have made him especially successful at working with other entrepreneurs and business owners now.
First Deals
The first deal Jay remembers being a part of was setting up a candy store kiosk in a local mall. He thought he'd hit paydirt at 22 years old, and was thrilled to get started. Now, he laughs a bit about that and has fond memories of his humble beginnings.
One of his major takeaways is that there is no substitute for hands-on time on the job. You have to get in the trenches and learn what works and what doesn't.
In every business he's been a part of, Jay has seen things that really work, and things that don't. He's had to learn what his own philosophies and processes will be, and also what he doesn't want to be part of his business.
Intentionality plays a large role in this, and that same intentionality has been a major part of determining who he serves, and what kind of deals he'll take on today.
I Don't Live to Work
Jay shares that he doesn't want to get on a plane unless he's doing it for leisure. He doesn't want his advisors to have to do so either.
As a result, Viking has intentionally chosen to craft a business model that allows them to serve well, without pushing them to revert to "working to live". So far, it seems to be working well!
Because of the nature of their work, Jay also shared that a "repeat" client might be someone they see every 10 years! Their clients are doing transactions, and in some ways the work that Jay's team is doing is transactional as well. That doesn't mean they aren't building relationships, of course! It does mean, however, that they aren't generating ongoing revenue from subscription-type models that enable you to build profits from repeatedly working with the same people or groups.
Instead, they have to continually pursue new deals with new organizations. After all, how many times does a single entrepreneur or owner have a company to sell that's valued in the millions, or tens of millions, of dollars?
Why Do You Start a Business?
Having seen hundreds of transactions over the years, Jay notes that many entrepreneurs lose sight of the fact that the successful end to their business is to sell it for a profit. No one will be here forever, and the options available are to either close up shop, or to sell.
Being prepared to sell can ensure that your work will live on, and can also prepare you to enter your retirement years with a solid footing.
It's essential that you're thinking about the right time to turn equity into cash in your pocket. Some of this is based on feel, much like the stock market.
Jay also jokes that nepotism can create problems here. It can be tempting to simply hand over the business you bootstrapped from the garage in its early days, but it's often not the most helpful way to ensure success. He compares it to buying your teenager a brand new sports car on their 16th birthday. You could do it, but it's likely not a great investment.
Instead, he recommends that you secure your own retirement first buy selling your business, then taking a percentage of those proceeds and use it as a down payment on a smaller business that you can plan to coach your heirs through building on their own.
The reality is, 2nd and 3rd generation businesses have profoundly poor outcomes. Some of that may be connected to the idea that a business should just be handed over to the incoming generations, without making payments.
In fact, Jay notes that when his dad was ready to retire, he bought him out. It's a legally completed deal, and Jay did have to take on debt, and risk, to make it happen. However, he thinks that's an important part of ensuring that he'll show up, go the extra mile, and be committed to achieving success in his own right long into the future.
The Deal-Making Table
Jay believes that a buyer is paying for what the seller has accomplished, but is buying because they see the opportunity to realize greater success. If a company seems perfect, that can also mean there is little to no room to actually grow, which is actually a downside.
I've seen deals fall apart because the buyer is attracted to a company, but isn't able to see margin for improvement. There can be a sort of ceiling, or cap, that makes a potential sale seem less attractive, and that's something to be aware.
Funny enough, even though growth margin is a good thing, sometimes the person selling their company can get offended or upset if weaknesses (which are also the growth areas) are named. The ego can get involved and want to insist that nothing is a problem.
Plus, going to market can feel emotional, even when ego isn't a problem. Your business is incredibly close to your heart, and is often something you've poured years of sweat and tears into. Jay counsels clients to really focus on creating consistent results that are intentionally designed with an exit strategy in place. That way, you can go out on your terms, rather than having the sale dictated to you.
Do Your Due Diligence
Professionals know what buyers are looking for. Jay and I are both very familiar with what sorts of questions are going to come up. We're also skilled at helping you navigate them.
As Jay notes, due diligence and preparing to sell can literally feel like a second full job. If you're not prepared for that, you can quickly become overwhelmed. Due diligence is the opportunity for the buyer to really assess their risk. Understandably, most of them want to dig into the minutiae in order to ensure that your business will be a good fit for them.
No one wants a lemon, and failure to do due diligence can result in deals that should have never happened.
Listen in to learn more about our thoughts on due diligence and preparing for a strong exit.